Posted by MacroEnter on 30th Mar 2016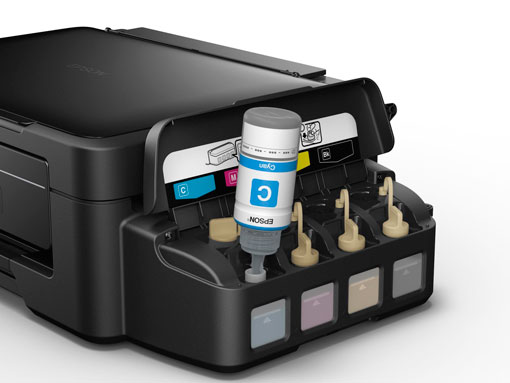 Depending on your priorities, the best way to save money on printer ink might vary from customer to
customer. For example, if do a lot of printing and plan on keeping your new printer for a while, you
might consider an Epson EcoTank printer.
According to Consumer Reports testing, the EcoTank (with Refillable tanks) is one of the more expensive
than most. At first glance, this might lead you to believe that the new EcoTank printer is not your best
bet. In fact, in the short run it may not save the consumer a lot on ink cost. On the other hand, if you
take a closer look at the Consumer Reports testing you might come to a different conclusion.
The testing was based on what Consumer Reports called an 'average amount' of printing that is done in
a month. That 'average' was 23 pages of text, nine pages of graphics and around nine photos. Testing at
that established printing average, the cost of Epson EcoTank (and Epson printer ink) for 2 years would
be $400, which is higher than the HP Officejet Pro at $325 or the Canon Maxify @$150.
But again, if you do quite a bit of printing and you plan on keeping your printer a little longer, the
numbers change in favor of the EcoTank printer. In fact, after 5 years the total cost for the EcoTank is
$448 while the HP Officejet Pro is $588 and the Canon Maxify is $692. So depending on how your printer use is trending, you might consider spending.
Note: Epson Refill Ink, Ink Cartridges (and Refill Tools) are available in multiple colors, for multiple
printers @ Macroenter.com